This fall was a fruitful reading season for me, covering a wide swath of topics and themes, exploring moments in history of which I possess little knowledge and pushing myself in some cases to wrap my brain around some dense but worthwhile reads. I decided that since fall covered so much ground I would divide my typical seasonal reading list into three categories–fiction, non-fiction and poetry. These are all the books I read–the good, the meh and the fabulous–so I have included a brief synopsis along with what I thought about each of them. Per usual you can take or leave me opinions (but if you want to talk about any of them I would love that!). This is the "nerdy" part of good, nerdy fun! 
Fiction 
The Lightest Object in the Universe by Kimi Eisele

I love the post-apocalyptic genre but I am picky. I really love the genre when it can point to the possibility for who people can be not only in terrible circumstances but how we could shape our world now. My favorite read so far in 2019, The Lightest Object in the Universe by Kimi Eisele delivered a vision of the future that was hopeful and thought provoking about how we could live now. I loved it so much I wrote a full review HERE. 
Nine Perfect Strangers by Liane Moriarty 
I enjoy Liane Moriarty's books particularly What Alice Forgot and Big Little Lies. She has a way of using multiple viewpoints to create some really sharp but well planned plot twists. However, the plot twists in Nine Perfect Strangers jumped the shark, it was so wild that it severed the relationship between the reader and the characters. Ultimately, I didn't care how the characters ended up because the plot twist was so wild I didn't get the sense that Moriarty cared about these characters. 
Good Morning, Midnight by Lily Brooks-Dalton
Often I find my best reads by browsing my local bookstore or on the recommended of trusted bibliophile friends. However, on occasion a book will come across my feed on Instagram after the buzz of release has died down that get consistently good reviews. Good Morning, Midnight is one of those books. Since I wanted to read it during September, where I had committed to not purchasing any books, I checked out a digital copy from the library. I found this to be a delightful read and in a similar vein to Station Eleven.  
The Great Believers by Rebecca Makkai 
This book wrecked me in the best possible way. It follows the story of Yale and Fiona during the early 1980's in Chicago during the period of time that AIDS was a death sentence slowly circling the gay community and the aftermath of that time period. The complexity of characters and the moral choices they are faced in this story was beautiful and heartbreaking. If you are like me and you are just young enough that you remember AIDS after we as a culture began to seek a cure and promote public health and awareness, you need to read The Great Believers to get a solid picture of what the time before that was like for the hundreds of thousands that died. 
Wanderers by Chuck Windig 
I picked up Wanderers based on the synopsis and a few online reviews, an apocalyptic story that follows two strange diseases that place humanity in jeopardy. I enjoy a good apocalyptic or post-apocalyptic story and this one had a solid plot and most of the characters were worth investing in as the story unfolds. However, at nearly 800 pages I thought could have been better edited in two ways. First, too often Wendig tried to tell us how we should feel or think as the reader through the inner monologue of characters. If all of this excess explanation was edited out the book could have clocked in about 200 pages less. Second, I prefer a strongly written scene and dialogue to place me in the story, rather than being told. Sometimes I felt like rather than rewriting scenes to make them tighter and more powerful we got an inner dialogue of a character. All of that said, it was still entertaining as all get out, it was just no King's The Stand. 
Recursion by Blake Crouch 
True confession, I didn't like Dark Matter when I read it. It wasn't until months later when I couldn't stop thinking about the theories he lays out that I appreciated it as a book. So when Recursion released and was offered through Book of the Month I snagged it. Crouch is a master of a very specific kind of thriller that presents complex quantum science and imagines it being used to its most terrifying end as a way to think about technology and its consequences. He also uses scientific theory to explore what grief and love will drive humans to do. One the whole I found this book suspenseful and thought provoking. 
Evvie Drake Starts Over by Linda Holmes 
After reading way too much apocalyptic fiction, thrillers and one book on the AIDs epidemic I needed something light. Evvie Drake Starts Over completely fit the bill for something light and entertaining, while still having substance and thought. When former Major League pitcher, Dean Tenney, moves into an apartment at the back of Evvie's house, the two make a deal: Dean won't ask about Evvie's late husband, and Evvie won't ask about Dean's baseball career. I enjoyed rooting for Evvie and Dean as they each figured out their own stuff, and the secondary characters were all very well written and really made the story shine. 
The Institute by Stephen King 
I am a new Stephen King convert so my reviews never take into consideration the wide pantheon of his writing. In the middle of the night in a matter of minutes, Luke Ellis is kidnapped with his parents are murdered. Luke will wake up at The Institute, in a room that looks just like his own, except there's no window. And outside his door are other doors, behind which are other kids with special talents—telekinesis and telepathy—who got to this place the same way Luke did. I enjoyed the suspense and mystery of the first two-third of The Institute as Luke and his friends try to navigate this terrifying new world. The last third though had the feel of something I had read before, like if one of Blake Crouch's scientific thrillers made a baby with Trenton Lee Stewart's Mysterious Benedict Society–it felt very "kids on a heist" to me. It was still an excellent book that kept me turning pages. 
The Dutch House by Ann Patchett 
Can you really dislike a book if you listen to the audio version and Tom Hanks is the reader? No, no you cannot. This book might have only been ok if I had read it myself but it was fabulous with Tom Hanks as the narrator. Really, he could read me the phone book and I would think it was wonderful but I digress. The Dutch House tells the tale of two siblings over the course of decades as their lives unspool after the death of their father and their stepmother evicting them from their childhood home. 
The Secrets We Kept by Lara Prescott 
I didn't know much about this book when I picked it up–historical fiction? Cool. Strong female leads? Great. So I was pleasantly surprised to learn that The Secrets We Kept was a tale of female spies during the early Cold War era (a time period I don't know much about). At the height of the Cold War, two secretaries are pulled out of the typing pool at the CIA and given the assignment of a lifetime. Their mission: to smuggle Doctor Zhivago out of the USSR, where no one dare publish it, and help Pasternak's magnum opus make its way into print around the world. I loved this blend of spies, literature and history. 
The Giver of Stars by Jojo Moyes
Can I get enough well-written fiction with strong female leads? Why no, no I cannot. Am I a sucker for a bookish plot especially on that involves creating access to books for those in rural America? Why yes, yes I am. I adore The Giver of Stars. The protagonist was complex and the cast of characters that surrounds her in this rural Kentucky mining town in the 1930's were well developed and elements of the unexpected. I appreciated the way that Moyes creates layers of relationship that were interesting and nuanced without being complicated and overworked. Finally, I loved the sense of place that this book had in the hollers of Kentucky in the woods and mountains. 
Non-Fiction 
Desiring the Kingdom: Worship, Worldview and Cultural Formation by James K.A. Smith 
This is going to be a book for the small slice of readers that are engaged in Christian worship and preaching. In other words, if you are a church nerd, this books was an intriguing read for several reasons. Desiring the Kingdom not only looks at what preaching and worship do or can do. The book also explores the larger shaping of people's hearts in the face of competing practices people engage in to make meaning. I walked away with a solid philosophical framework but also some thoughtful ways to talk about Christian Education in the church and how to shift some of the practices of worship to engage the heart.
Catch and Kill: Lies, Spies and a Conspiracy to Protect Predators by Ronan Farrow 
I read Catch and Kill book in 36 hours…I couldn't put it down and I have so many thoughts coming out of it. Farrow does an excellent job presenting brutal material in a straight forward journalistic style that between that and the rigorous fact checking presents a solid case against Harvey Wiestien and NBCUniversal (they are despicable). He has a dry sense of humor and an ability to deliver a one liner that was both humorous and could cut through the bullshit. Farrows case for how nefarious and despicable HW and NBC were to preserve power and manipulate public narrative is captivating and terrifying but I found several key points in his reporting to be very applicable to church leadership and building structures of accountability that mitigate power and protect the vulnerable you can read those HERE. 
Tears We Cannot Stop: A Sermon to White America by MIchael Eric Dyson 
This was another book for my study cohort and I decided that instead of reading it, since it was a sermon the best way to process the authors meaning would be to listen to it on audiobook. I appreciated Tears We Cannot Stop on a lot of levels, not just because it reminded me of the truth that there are some things that can only be communicated through a sermon. In other words, sermons exist to share things that no other form of communication can do as effectively. I also loved the hymn selections of Kendrick Lamar and Beyonce.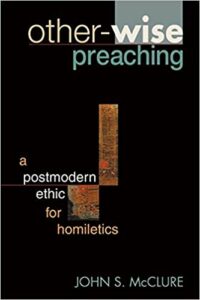 Otherwise Preaching: A Post-modern Ethic for Homiletics by John McClure 
Ok, ok, ya'll let's get real for a second–this book is DENSE. I studied under John McClure for my master and I thought "oh, I will just do a light, quick reading of this, pick up the nuggets and call it good." Nope. Otherwise Preaching is heavily philosophical and takes some real grey matter to get through. I am grateful that I read it with my cohort group so that I could process it in conversation and get the most out of it.  I found his insight into the way the Quadrilateral has collapsed in its authority fascinating, but wanted to hear more about what's next. 
Walking on Water: Reflections on Art and Faith by Madeleine L'Engle 
This is one of those rare books that is made to savor, to be read slowly so that the richness of metaphor and abundance of imagery can be absorbed and enjoyed. Walking on Water is a reflection on faith and writing that takes seriously the work of asking better questions and exploring divine possibility. 
Poetry
Joy: 100 Poems by Christian Wiman 
I read this book several years ago but took it off the shelf to re-read again this year. Joy is a collection of well selected poems that speak to the nuance and intricacies of living a life. I have several favorites that I will add to my little stash of poems I am working on memorizing. 
Sea Glass: New and Selected Poems by Luci Shaw
I am remiss to confess that I was unaware of the work of Luci Shaw until I recently attended the Walking on Water Writing Conference celebrating the life and legacy of Madeleine L'Engle.  Shaw was a friend and contemporary of L'Engles and her poetry is a pleasurable touchstone of wisdom found in the ordinary. Sea Glass is a delight I haven't experienced in a while reading poetry.
That's my reading for the fall (September, October and November) and as always I would love to hear what you are reading and enjoying!
Like what you've read? Want more? Sign up for my twice a month newsletter (because we're not spammy) and get original content you can't find here on the blog. Reflections on faith and living, book recommendations and other good, nerdy fun. Sign up HERE.