I thought about not sharing this list because it is quite short and could just as easily roll into the summer list. But then I realized that part of what helps encourage others to pick up reading is being transparent about how I read. That includes transparency when I am not reading. This spring season, due to an overwhelming amount of things taking up my time, I read very little. However, among the books I did have the chance to read, several were incredibly moving and thought provoking. It also stands out that while my reading life suffered through home renovations and client load, my reading life with my middle grade reader remained steady. We read several books together that I might not have read otherwise and that brought some entertainment. So maybe in this season less did turn out to be more.
Fiction
 The Electric Kingdom by David Arnold
Format: Hardcopy; Length: 432 pages
A post-apocalyptic book likened to Station Eleven? A cast of young adults and kids that have that kids on an adventure vibe I love? Yes please. Thankfully The Electric Kingdom did not disappoint either the rave reviews or my high expectations. The story was layered and the multiple storylines came together well. It had just the right amount of suspense without teetering over the edge into horror or unnecessary violence.
Winterhouse by Ben Guterson
Format: Hardcopy; Length: 384 pages
Winterhouse had all the potential–a girl and her friend who love to read and solve word puzzles fall upon a mystery while staying at a mountain side resort over winter break. Bonus, the illustrations were modern and clever. Unfortunately, there were problematic elements I couldn't get past, namely the adults gaslighting the children without apology or remorse. Not something I want to normalize for the young readers in my house.
The Gunslinger by Stephen King
Format: Audiobook; Length: 8 hours
The first in the Dark Tower series, I listened to The Gunslinger while I sanded all 14 doors in my house one weekend. A strange and delirious ride, I am still not sure what I read and that makes it hard to foster the desire to read the other books in the series. Not for me, but maybe a post-apocalyptic, inter-dimensional fever dream of a book is for you?
The Rose Code by Kate Quinn
Format: Audiobook; Length: 16 hours
I loved the Huntress (who does not like vengeful Russia spies hunting Nazis?) and found The Alice Network a total bore, so I was unsure if I would enjoy The Rose Code. Which means I was pleasantly surprised to find this WWII historical fiction about British code breakers fascinating and suspenseful.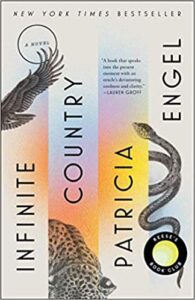 Infinite Country by Patricia Engel
Format: Hardcopy; Length: 191 pages
One of the best books I read this spring and a strong contender for top books for the year. Infinite Country is a sweeping intergenerational story of migration that packs a punch in its compact 190 pages. The story of a family straddling borders was not only beautifully written but deeply insightful.
How Beautiful We Were by Imbolo Mbue
Format: Hardcopy; Length: 384 pages
The story of ecological and human destruction slowly imposed on a fictional African village by an oil company feels like a story taken from the headlines any given week. And yet, Mbue makes what feels like distant headlines deeply personal in How Beautiful We Were. This isn't an easy read, but it's a worthwhile one.
How to Stop Time by Matt Haig
Format: eBook; Length: 352 pages
How to Stop Time is a bit like if The Midnight Library and The Invisible Life of Addie LaRue made a book baby, that is if Addie LaRue had a plot. The story of a man that has lived for centuries and now, in his midlife, wondering how he can go on to build a life worth living. Moving between present day London and the past, Haig does what Haig does best and uses fiction to explore the question "what does it mean to live a good life?"
The Oracle Year by Charles Soule
Format: Hardcopy; Length: 402 pages
A backlist read that's been sitting on my shelf for ages, The Oracle Year follows a man that wakes up with predictions about the future seared into his mind. What follows is a tale woven across continents, religion and politics as the Oracle races to figure out what the prophecies he's been given mean and everyone else races to find him. Suspenseful and smart, I don't know why this book sat on my shelf for so long.
Non-Fiction
Blessed Union: Breaking the Silence about Mental Illness and Marriage by Sarah Griffith Lund
Format: eARC; Length: 160 pages
Mental health and marriage isn't a topic widely covered in Christian circles. So it was a delight not only to read Blessed Union and reflect on my own marriage, but to interview the author for my interview series. You can read the whole piece HERE.
I am looking forward to summer reading. I hope that my selections are a bit more intensional in the next season. If you are curious you can see a few of the titles I am hoping to get to this summer. Or you can see what I read last summer,which is when I read many of my favorite books of last year.